Getting a Kosmic touch
The partyspace the 27th of June was hard to fill. Lot's of other stuff going on.
The music was present in huge variety.

The next Jivatman&Tamuraj-set is to be expected the 21th of July at Unit near the same Vlasmarkt. A second Gentsche Fieste-gig is at... Kosmic the 23rd.

Search Corner: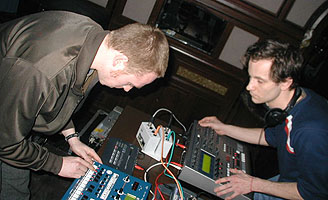 Tamuraj & Jivatman makin groove
The airwaves, a free unpossessable domain, inspire me. A release from the burden of freedom in this world
Want to discuss something, ask for a demo or get booking&info mail here